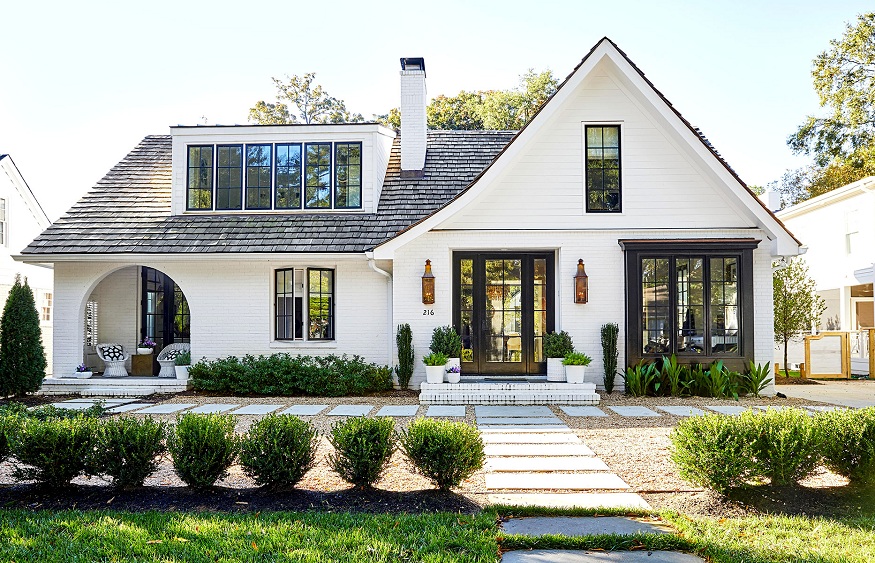 The exterior of your home sets the tone for what's inside. Therefore, you want the appearance of the facade to be first class, especially if you are trying to sell your home. Or, you may want to improve the curb appeal of your home simply for your own enjoyment, as well as that of your guests.
With that in mind, here are six easy and inexpensive ways to make your home that much more attractive when seen from the street.
1. Maintain the lawn
The lawn is often the basis for all other aspects of a home's exterior appearance. Unfortunately, it is also the element that requires the most time and labor. If you don't have enough time to maintain your lawn, you can invest in  other solutions , such as shrub beds, ground covers or a drought-tolerant garden.
2. Consider symmetry
You can use symmetry in your facade to draw passers-by's attention to focal points, such as a newly painted front door. You can also use it to simply make your facade look more organized and harmonized. You can create a symmetrical look by placing  potted plants or matching lights on either side of your front door.
3. Feature the door
Your front door can offer much more than just an entry point: it can be an important part of your home's curb appeal. You can make your door stand out with a fresh coat of paint. You can choose a neutral color or, if you want to add character to your home, paint it dark red or blue. If you decide to paint your door, it's also a good idea to replace the hardware. Even with a fresh coat of paint, your door will look tired if you keep the same old rusty doorknob. Replace it with a new brass or other metal handle.
4. Balance your landscaping
Along the same lines, consider improving the balance of your landscaping. You will want to choose plants that complement each other through the seasons. For example, if you have bulbs whose leaves turn yellow after flowering, you can choose  a plant that will hide them from view at the right time. Also try to choose plants that complement each other in height, color and texture.
5. The nocturnal effect
Why go to so much trouble to improve the curb appeal of your facade if you can't see it at night? If you don't already have lanterns, pendant lights, or outdoor sconces, consider adding some, especially if you're trying to sell your home. You can also use  solar-powered lights along driveways and your parking area, as well as under trees, to emphasize their shape at night.
6. Bring out the garage door
If your  garage door leaves a little to be desired, it is not always necessary to replace it, an expensive solution. A good wash with a pressure washer can work wonders. Otherwise, depending on the material of your garage door, a new coat of paint or stain can give it a new lease of life.
Are you ready to improve the appearance of the facade of your house? If so, keep these six tips in mind…and get started today